Elra "Al" Kruger
Date posted - January 10, 2017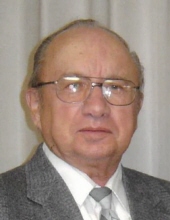 Elra "Al" Kruger, age 80, passed away on Monday, January 9, 2017, at the Crossroads Care Center in Worthington, MN.
Funeral services will be held on Saturday, January 14, 2017, at 11:00 a.m., at Indian Lake Baptist Church, rural Worthington, MN, with Pastor Jonathan Larson officiating. Burial will be in Indian Lake Baptist Cemetery. Visitation will be held on Friday, January 13, 2017, from 5:00 p.m. to 7:00 p.m., at the Benson Funeral Home in Worthington and also one hour prior to the service at the church.
Benson Funeral Home in Worthington is in charge of the arrangements.

Leave a Reply
Sheldon Broadcasting Company, Inc. appreciates your comments that abide by the following guidelines:
1. Avoid profanities or foul language.
2. Disagree, but avoid ad hominem (personal) attacks.
3. Threats are treated seriously and will be reported to law enforcement.
4. Spam and advertising are not permitted in the comments area.
These guidelines are very general and cannot cover every possible situation. Please don't assume that Sheldon Broadcasting Company, Inc. or its advertisers agrees with or otherwise endorses any particular comment. We reserve the right to filter or delete comments or to deny posting privileges entirely at our discretion. Please note that comments are reviewed by the selected staff and may not be posted immediately. If you feel your comment was filtered inappropriately, please email walt@kiwaradio.com.
Back to:Elra "Al" Kruger