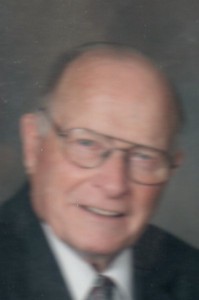 Dr. Richard (Doc) Franklin Derby, 90, died at Pine Haven Care Center in Pine Island, MN where he had resided since July, 2011.
The funeral service for Dr. Richard Derby will be Monday, November 26, 2012 at 2:00 pm at Zwingli United Church of Christ located in Berne, MN (rural West Concord) with the Rev. Victor Jortack officiating.
Visitation will be for one hour before the church service. Interment will be in Evergreen Cemetery in Mantorville, MN with military graveside services provided by the Kasson American Legion and the Mantorville VFW.
A memorial service will be held at Tabernacle Baptist Church, George, IA on Tuesday, November 27, 2012 at 2:00 pm.
Richard was born February 24, 1922 in Milton Township, Dodge County, Minnesota to Walter and Esther (Alberts) Derby.
During World War II, Richard served in England and France (participated in the battle of Normandy) from 1942 through 1945 in the Signal Corp with a final rank of communications chief. He received the American Service medal, Good Conduct medal, European-African-Middle Eastern Service medal and World War II Victory medal.
Although Richard didn't graduate from high school, it didn't mean that he hadn't had a thirst for knowledge. He had read the complete set of World Book Encyclopedias from cover to cover. After the military, Richard attended and graduated with an AA degree from Rochester Community College in 1948. He continued his studies to be an engineer, attending the University of Minnesota. Because engineers weren't finding employment, he decided to study at Dunwoody Institute in Minneapolis to be a tool and die maker. He was one of the first to be employed at the IBM plant in Rochester, MN, when it opened in 1956. Richard decided to change careers when he enrolled at Northwestern Chiropractic College in Minneapolis in 1960, where he was a member of the Nu Eta Chi Honor Society. After completing his studies there, he was a practicing chiropractor in Rochester, MN.
On November 18, 1966, Richard married Virginia Buxton at First Baptist Church, Stewartville, MN. Richard and Virginia lived in Rochester, MN, Stewartville, MN, Canton, SD, Sheldon, IA, George, IA, Marietta, GA and Ashton, IA where he practiced his profession over a period of 46 years. He was still working many hours daily as a chiropractor until he was 86 years old when he was forced to retire due to health reasons. Dr. Derby was always willing to take care of his patients whenever they needed help from his healing hands. He would work around his patients' schedules, whether that would be 5:00 am or midnight, on any day of the week, including holidays.
After his marriage, Richard was very active in the Baptist Church. He was a Sunday School teacher and also frequently sang duets with his wife at church services. He was a member of the American Legion in Canton, SD and Ashton, IA for many years. He also belonged to the Minnesota Chiropractic Association, South Dakota Chiropractic Association, and the Iowa Chiropratic Association at various times.
Richard loved to travel with his wife and was an avid reader, especially books or articles of a scientific nature. Richard always thought "outside of the box". He was constantly thinking of how something could be made better, always inventing. His talents ranged from putting in a water system on the family farm as a teenager; building a hay bale elevator; inventing a part for an airplane, a self-adjusting step ladder, and a better chiropractic adjusting table; as well as ideas as to how to extinguish oil well fires. He also had his own unique ideas about better ways to adjust his chiropractic patients. Richard was a man of small stature with giant ideas, always saying that nothing was impossible.
Survivors include two daughters, Sara (Peter Shane) Derby-Burras of Essex, VT and Laura Derby of Los Angeles, CA; and one grandchild, Breanna Derby-Burras. He is also survived by a sister, Shirley Lien of West Concord. He was preceded in death by his wife, Virginia; his parents; brothers, Charles of Yankton, SD, Lester of Byron, MN and Howard of rural West Concord, MN.