ORANGE CITY, Iowa – Northwestern College athletics and Vice President for Athletics Dr. Micah Parker have announced plans to dedicate the first phase of the Bultman Center renovations set for Wednesday, September 29 at 5:15 p.m. inside the new Bultman Center lobby. Media and Raider fans are invited to attend.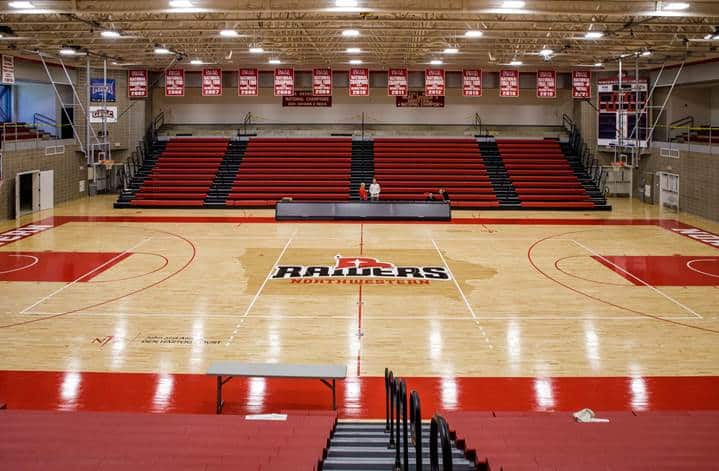 The facility, built in 1995, is home to four of Northwestern's standout athletic programs: men's and women's basketball, volleyball and wrestling. It also includes locker rooms, classrooms, athletic training facilities and coaches' offices.
"Phase one started last fall with approval from the Board of Trustees to start raising money. A significant lead gift allowed us to start work on the floor in the spring. We were blessed to have the money raised in about five months to complete the first phase," notes Dr. Micah Parker. "We've experienced many product and delivery issues that all construction projects are working through, but we are thrilled with the end product."
The first phase of Bultman Center renovations totaled $2.25 million, including a new gym floor and new bleachers installed throughout the venue. Cosmetic changes utilizing the athletic department's new branding have been implemented in the gymnasium as well as the lobby and hallway areas. Come game day, Northwestern athletics is set to feature a brand-new three-piece Daktronics scorers table with LED screens. The new Bultman floor has been named after the Den Hartogs following the lead gift from John and Ann Den Hartog.
"I am continually humbled by the generosity of the alumni and friends of Northwestern College and Red Raider athletics," says President Greg Christy. "We are grateful for every gift, and especially for the lead gift from John and Ann Den Hartog, which got the ball rolling for this project. These renovations will enhance the student-athlete and fan experience in the Bultman Center for generations to come."
"We are excited to welcome the Red Raider community to a newly remodeled Bultman Center. We've heard so many positive comments from alums and fans who have followed the project," says Dr. Parker. "The floor is beautiful and proudly displays our new Raider logo as well as the state of Iowa. The remodel welcomes recruits and fans to help us honor Christ through excellence in athletics!"
Addressing the need for more space, phase two will include renovations of locker rooms and the transformation of coaches' office spaces.